Tech •
Lime Debuts Sidewalk Detection As Their Latest Innovation To Improve Scooters For All
Today, Lime and the City of San José launched first-of-its-kind technology to detect and reduce e-scooter sidewalk riding, and better inform cities on infrastructure needs, as part of a new pilot program rolling out this week. The pilot is the first in any e-scooter market worldwide, and will be implemented throughout downtown San José.
"We began developing sidewalk detection over a year ago as a commitment to the safety of the communities we quickly became a part of," said Nick Shapiro, Lime's Head of Trust and Safety. "We know that micromobility can only be successful if riders and communities feel safe, and at Lime, we're dedicated to advancing safety for all."
Technically Speaking
For every ride in downtown San José, Lime will collect accelerometer and speed data. From this data, the vibration of the underlying riding surface (e.g. a road or a sidewalk) can be detected using a sophisticated statistical model (AI) that Lime designed. With this functionality, Lime is able to discern with up to 95% accuracy when a rider is riding on a sidewalk instead of the street.
If a trip has been completed where more than 50% of the ride was detected to occur on a sidewalk, users will receive a push notification. In the future, at the end of a ride, an image outlining when and where the sidewalk riding occurred may be sent to the rider, along with an email containing the same information.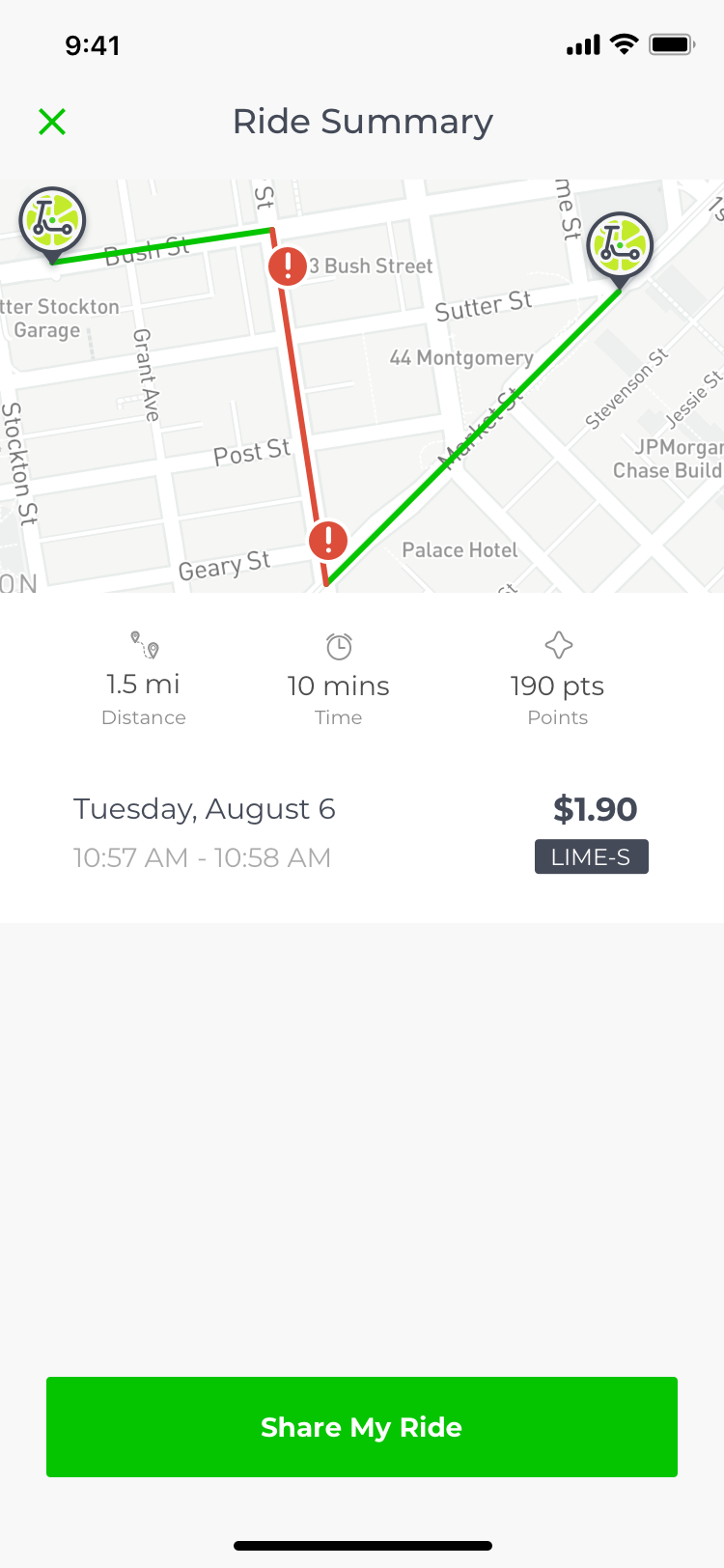 "Lime has been working on sidewalk riding detection since hearing concerns from some city and community partners, and we believe we may have finally cracked the code on this issue and developed a technology that is effective, safe and scalable," said EV Ellington, Lime's Northern California General Manager.
"We are excited to leverage the data we collect to better understand when and where people are riding on sidewalks. Once we have that data in hand, we can share it with the City of San José and work on potential infrastructure improvements, such as protected bike lanes, to make riders and pedestrians feel safe."
Why This Matters
Consumers and community partners want safe streets and increased micromobility infrastructure. In a recent Lime survey, 52.2% of Lime riders ranked a protected bike lane as their number one choice for riding.
"It's great to see Lime answering our call to action, adopting sidewalk detection technology for riders," said San José Mayor Sam Liccardo. "This innovative approach enhances San José's micromobility and pushes the entire industry to make it safer for scooters and pedestrians to equitably share our streets."
Lime previously has educated riders in the app and in First Ride events on where to ride, but the company believes this is the next step in further education and enforcement to improve the safety of pedestrians and make sure Lime riders are responsibly sharing the public right of way.
You can learn more about tech updates and safety initiatives happening near you by subscribing to 2nd Street.