Lyme Regis To Limekilns: A
500

-Mile Lime‑E Adventure Across The

UK
It all started out as a joke.
Last year, Robin Varley and his friend Sergio thought it would be an amusing challenge to pedal the 50-odd mile gap between Brixton and Brighton using only London's colloquially-named Boris Bikes. The trip lasted just over 10 hours, including a brief photo op with Gatwick police, and set the pair back a modest sum of 40 GBP.
This year Robin enlisted the help of fellow adventure-seeker Magnus Mulvany, and while the duo kept the alliterative theme of the campaign they opted for a significantly more daunting circuit.
According to Google Maps, there are 504 miles (809.5 kms) separating the coastal towns of Lyme Regis in England and Limekilns in Scotland. Total elevation gain along the way stands at just under 12,000 ft, the bulk of which is earned in the rugged fell mountains of Lake District National Park.
For such an ambitious journey, Robin reached out to the only bike provider with both the name and the equipment appropriate enough to see the thing through.
"Honestly, it's just for a laugh," wrote Varley after a preparatory call with the team at Lime. "We're excited to show London what's possible with a bit of grit and some creative thinking - all while highlighting how awesome Lime bikes are."
Equipped with two unlocked Lime-E electric assist bikes, chargers, camping gear, all-natural snacks and a pair of skin-tight lime green body suits, Robin and Magnus set out on Friday, April 19th.
By Easter the duo had made it to the town of Preston under uncommonly sunny UK skies, and come Monday's push through England's fabled Lake District Robin was reporting that "Magnus has used Lime bikes to race at least 50 road cyclists now, and has kept an impressive pace with all of them."
This seems as good a place as any to remind readers that Limes are neither built nor intended to be raced. Please ride safely.
On Tuesday, the longest Lime bike ride in historycame to an end in the 14th century fishing village of Limekilns, 15 miles northwest of Edinburgh. Along the way, Robin and Magnus raised over $1,200.00 in support of CALM: the Campaign Against Living Miserably. The nonprofit group is helping to fund the "movement against male suicide, the single biggest killer of men under 45 in the UK."
You can donate in support of this fantastic cause here.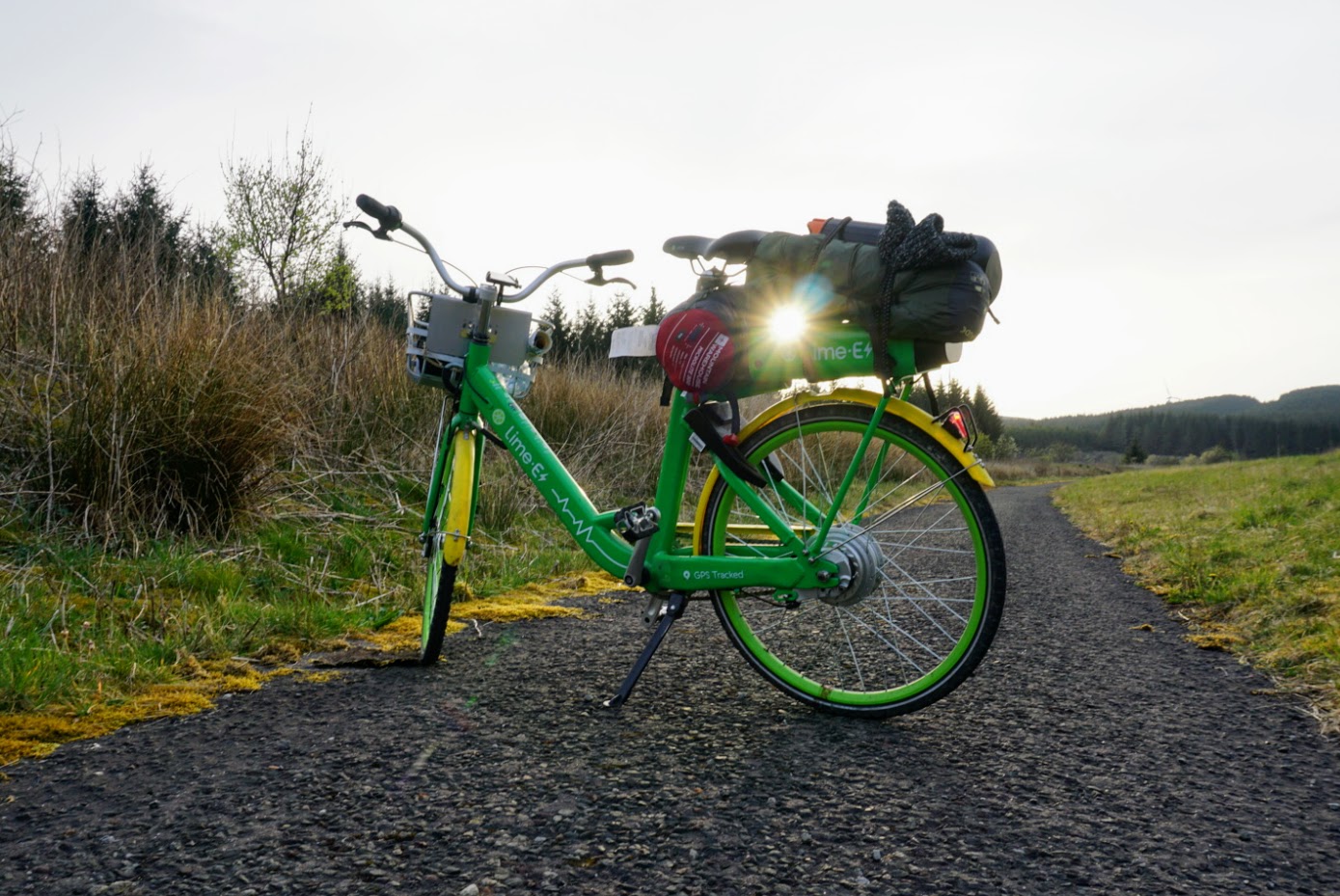 So what's next on his list of eyebrow-raising adventures? For the moment Robin says its the launch of the eco-friendly startup Urthly he's co-founding, although a swim across the Atlantic is apparently not out of the question.
It's apparently not a joke, either.
To find out more about great adventures like Robin and Magnus' 500-mile ride across the UK, subscribe to 2nd Street or download the Lime app to make your own significantly shorter bike rental today.