Community •
Lime Hero Spotlight: Matrix Human Services
In 2018, Lime became the first micromobility operator to offer an opt-in donation module allowing riders to round up the cost of each trip and donate the spare change to a community organization of their choice. Since then, nearly 40 local nonprofits have been added to the growing list of charitable recipients.
One of those nonprofit partners is Matrix Human Services, in Detroit, Michigan. Lime partners with Matrix Human Services because of the critical and expansive work they do to advocate for underserved communities throughout Detroit. With Lime Hero, Detroit Lime riders can round up the cost of each e-scooter trip they take and donate to MHS and with Lime Action, riders can become directly involved in their campaigns.
We chatted with Kerrie Mitchell, the Vice President of Marketing and Development for Matrix Human Services to learn more about the organization, their community programs, and how Detroit Lime riders can join them.
Hi Kerrie! Tell us about Matrix Human Services' mission.
Matrix Human Services, a 501(c)3 organization, has served the Detroit community and surrounding areas for well over 100 years. The League of Catholic Women led the way in 1906 with a vision and mission to fight poverty. Today our mission remains the same as we continue to touch hearts and change lives in our community. With programs at more than 50 programming locations, Matrix Human Services serves more than 20,000 individuals and families each year.
Inspired by its heritage since 1906, Matrix Human Services advocates for and serves the most vulnerable in the metropolitan Detroit community and empowers individuals and families to enhance the quality of their lives and achieve self-sufficiency.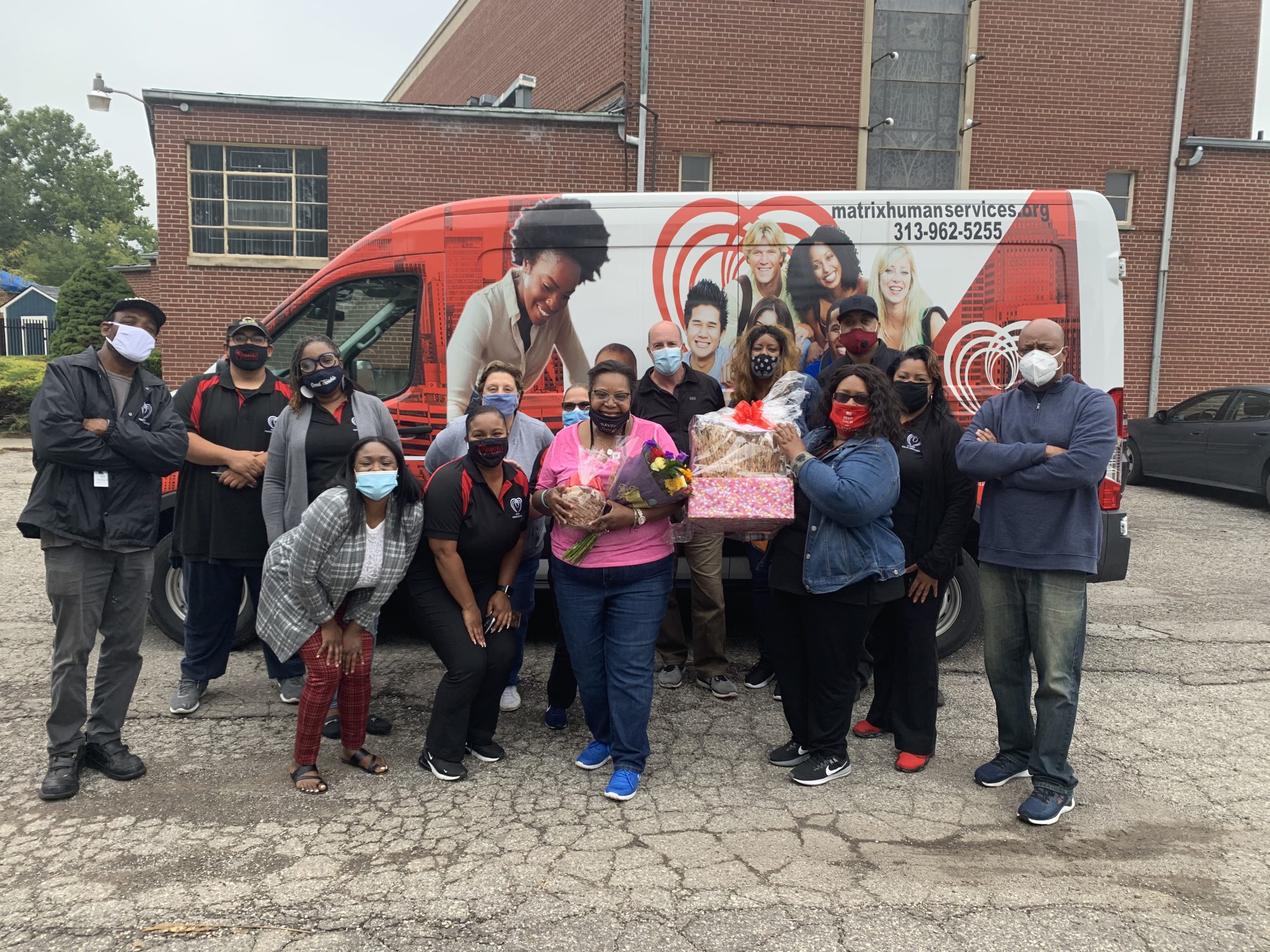 The Matrix Human Services has many incredible programs. Tell us about some of them:
Yes we do! Matrix offers a strong hand up… not just a hand out, and we have programs at more than 50 program locations designed to meet the diverse needs of the local Detroit community.
Our programs encompass early childhood, homeless youth, youth & families in crisis, community programs, events, senior services, and HIV/AIDS support. Our Head Start program is the largest in Detroit serving more than 1,700 children and providing full-day programming to birth to five-year-old students at select locations.
The Matrix Social Mobility Center a series of programs designed to assist clients in reaching their personal economic upward mobility goals. For example, our Community Financial Center provides one-on-one financial coaching and counseling, and free credit reports and FICO scores. And our Workforce Development Center offers one-on-one career coaching and counseling along with resume, cover letter and job search assistance to help people secure and maintain gainful employment.
How has COVID-19 impacted the Detroit communities you serve and how have you responded to these challenges?
At this unprecedented time, when not long ago no one knew what Coronavirus was, we have now seen this crisis unfold so fast, no one could have prepared for it. That includes of course, the people in our own community, our own family, friends, and neighbors. It is during times like these when we need generosity, humanity, and humility, to show up for one another, support each other, and offer whatever we can do to help.
Since March, Matrix Human Services has successfully converted all of our programs and services previously offered to virtual experiences to continue to meet the needs of our clients and the community.
Programs that we continue through safe, social distancing parameters are:
Bi-weekly Food Distribution for over 600 Families with Children (per distribution) in the most impoverished zip code in Detroit.
Monthly diaper, wipes, formula, and essential products distribution for families in Early and Head Start programs. Our counselors also continue case management support for entire families.
Bi -weekly food distribution and home deliveries specifically for up to 100 seniors.
Offer community job leads and direct hire through our Workforce Development team.
Senior Transportation for Adults 55+ years to groceries stores and pharmacies.
Youth Programming via Online, Virtual Delivery and tablet distribution to over 150 youth and teens.
Financial Literacy and Assistance for families to find a secure resources.
Resources for Pregnant Moms and Children Birth-5 years that includes weekly lesson plans a virtual learning.
Remote telehealth for those living with HIV
How important are affordable and sustainable transportation options, like shared e-bike and e-scooters, for Detroit?
Affordable and sustainable transportation is very important to the Detroit community because transportation is the number one factor or barrier for many Detroiters. Many don't have reliable transportation, which directly affects the workforce and creates financial barriers for the entire family. Working to resolve the transportation barriers will have a positive impact in the community.
How else can Detroit Lime riders get involved?
If you're riding with Lime, please enroll in the Lime Hero program in the Lime app to start rounding up the cost of your trips and donating to support our work! Please follow us on Twitter and sign up to volunteer with our programs and campaigns. Additionally, you can make a direct donation to Matrix Human Services.
You can visithttps://www.li.me/donateto learn more or sign up for Lime Hero in the Lime app.