Community •
Lime Hero Spotlight: Felix Project
In 2018, Lime became the first micromobility operator to offer an opt-in donation module allowing riders to round up the cost of each trip and donate the spare change to a community organization of their choice. Since then, nearly 40 local nonprofits have been added to the growing list of charitable recipients.
Lime is proud to partner with The Felix Project in London through our Lime Hero and Lime Action programs, which encourage our riders to get involved with local organizations. The Felix Project rescues good, surplus food from the food industry that cannot be sold and would otherwise go to waste and redistributes it to those in need.We spoke with Will Savage, The Felix Project's Corporate Fundraising Manager, to learn more about their mission, food waste in London, and how Lime riders can support their work.
Tell our riders about the work The Felix Project is doing in London.
Our mission is to end hunger in London by rescuing and redistributing surplus food. Surplus food is good quality food that cannot be sold for various reasons – vegetables, fruit, meat, fish, dairy and even cooked meals. Surplus food exists in huge quantities across the food industry and is usually thrown away. We work with businesses to take their surplus food, sort it at our warehouses, and then deliver it free of charge to 980 charities and schools across the city. Last year we delivered enough food for 21.1 million meals to help children and families, the homeless, the elderly and many more.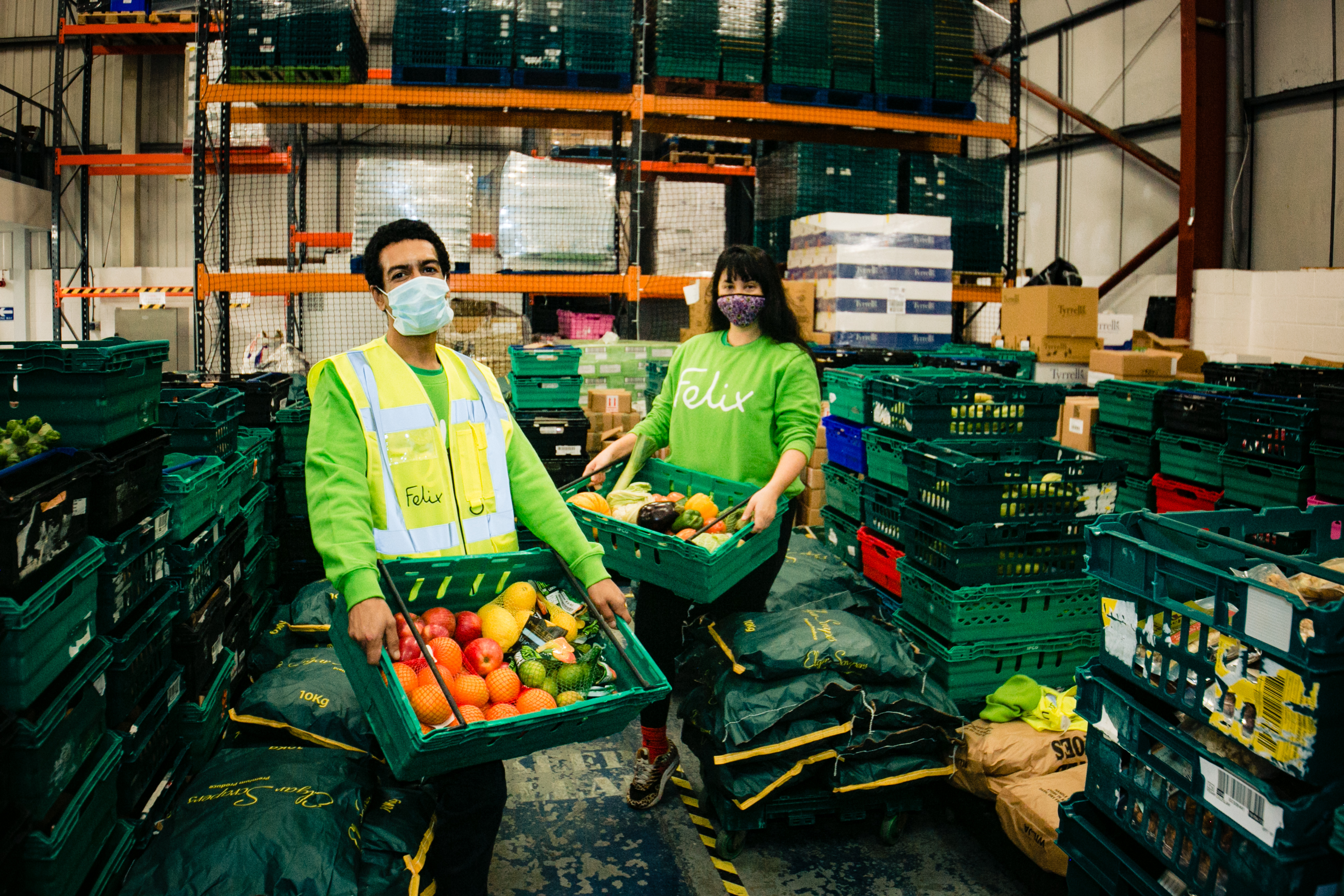 How has COVID impacted the vulnerable Londoners you serve?
More Londoners are going hungry than ever before in our lifetimes. There was already a hunger crisis in London, but the pandemic has exacerbated the problem. Children who usually receive school meals are struggling through the pro-longed lockdowns. Teachers are telling us that their food bank services are more in demand than ever, as more families are out of work. The homeless are having to walk twice as far to find food, as kitchens close.
In Central London, you can see as many as 150 people waiting for a meal – at the beginning of 2020 it would only have been 20-30 people. Many of these people have never faced hunger like this. A journalist from the Evening Standard went to a food bank that we supply food to and spoke to a masters graduate in politics from Leeds University who had never dreamed of using a food bank. Now, it's a lifeline for him.
We have seen a huge surge in demand for our services over the past year. We are now distributing four times more food per week, from 50 tonnes to 250 tonnes. We're helping 260,000 Londoners every month, but we have plans to do so much more.
What projects are you currently working on?
We are about to launch a new warehouse in East London at the heart of some of London's worst food poverty. It will be our biggest warehouse yet, allowing us to distribute huge quantities of surplus food out to the local area.
We will also be launching a professional kitchen later this year, to cook meals from surplus food that we can then deliver out to our partners. The COVID-19 crisis revealed to us a huge need for ready-cooked meals for people who lack the means to cook good hot meals from scratch. This includes elderly people who are frail and shielding, homeless people or families in temporary accommodation.
Felix's kitchen will be staffed by professional, trainee and volunteer chefs with the capacity to prepare up to 6,000 meals a day. It will allow us to make use of some surplus food which we are currently having to turn away. Once fully operational this kitchen will have the capacity to provide 1.5 million meals per year.
Beyond reducing food waste, what other key sustainability issues do you think need to be addressed in London?
While food waste contributes to large quantities of methane greenhouse gasses there are also further sustainability issues that we are looking to address through our operation. For example, our Central London operation is serviced by a felt of electric vans – we are therefore delighted to be partnering with Lime as a Lime Hero. Felix volunteers and staff can use Lime e-bikes to get to their shift, helping us to further reduce the carbon footprint of our organisation.
We are also working with suppliers to actively reduce the amount of plastic waste used. We are aware of the sustainability issues surrounding single use plastic and are committed to reducing this as much as we can.
In addition to signing up to Lime Hero, how else can Lime riders in London support your work?
You can help to fight hunger and food waste in London by volunteering! Volunteers are the lifeblood of The Felix Project. We're always looking for more people to help sort & deliver food. At the moment we're particularly looking for volunteers based in East London. Sign up here!
For every £1 we receive at The Felix Project we can rescue and redistribute the equivalent food for 6.1 meals so your support will make a huge difference in the fight against food waste and food poverty.
Follow our social media channels @TheFelixProject on Instagram and @FelixProjectUK on twitter to find out more. Thank you all again, your support will make such a huge difference and help us to feed London.
You can visithttps://www.li.me/donateto learn more or sign up for Lime Hero in the Lime app.