E‑bikes in Sydney
Lime is the longest-serving micro-mobility company in Australia and New Zealand, with broad experience operating across many of the region's most prominent cities.
Lime has operated e-bikes in Sydney for three years, and has completed over 1.5 million trips - more than any other micromobility operator in the City.
From Centennial Park to Circular Quay, Sydneysiders choose Lime for our commitment to safety, smooth ride experience and availability of our Gen4 e-bikes around the City.
FAQ in Sydney
Yes - you must be over 18 years old to ride.

No - you do not need a driver's license.

At the moment Lime operates their e-bikes in parts of Waverly, Bayside, the City of Sydney, Inner West, Randwick and Woollahra councils. Please see the map on our app. If your destination is outside of these locations, you, unfortunately, won't be able to travel the entire way.

You must follow the blood alcohol content laws that apply to your driver's license (e.g. 0 or 0.05) - if you do not have a license you must be 0.

By law, you must use a helmet, either your personal one or an attached Lime helmet. If you find a vehicle without a helmet and don't have your own with you, we recommend using the app to find another vehicle nearby.
Rules of the Road in Sydney
Parking in Sydney
Please park carefully and out of the way of others.
This means:
Park neatly on the kerb side of the footpath

Don't park against the building line

Don't park in car parking spaces

Avoid parking near entrances, exits, crossings and leaning against buildings

Consider whether wheelchair users could get past your parked e-bike
Make sure you ace the 'end-trip photo' 📸
The photo you take at the end of your trip is really important. We review all photos to check how you parked your Lime. If you haven't parked correctly, we may warn or charge you.
Follow the steps on the right to see how it's done ✅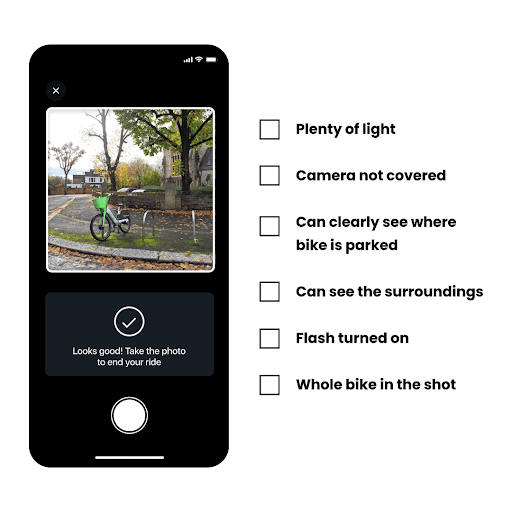 Lime Access in Sydney
Lime Access is our global equity program that provides discounted rides to eligible residents. It is part of our core mission to provide sustainable transportation options to all. In Sydney, eligible residents get 50% off rides.
Our Partner
Orange Sky Laundry
Orange Sky works to positively connect the 116,000 Australians experiencing homelessness through free mobile laundry and shower services and genuine conversation. Join our Lime Hero program and each time you ride, you'll round up the cost of your trip to the nearest dollar and donate the difference to Orange Sky. These small donations have a big impact!