E‑bikes and E‑scooter in Melbourne
Melbourne, the city that never sleeps.
Lime operates e-bikes and e-scooters across Melbourne, with Melburnians completing over 1.2 million trips since the respective programmes began.
If our riders are heading out for a drink in the CBD with a friend, watching a sporting event, riding along the beach at St Kilda, or shopping on Chapel St, they choose Lime.

FAQ in Melbourne
Yes - you must be over 16 years old to ride.

No - you do not need a driver's license.

At the moment Lime operates their e-scooters in the City of Melbourne, the City of Port Phillip and the City of Yarra, and all three also operate e-bikes plus the City of Stonnington. If your house is outside of these locations you, unfortunately, won't be able to travel the entire way.

You must follow the blood alcohol content laws that apply to your driver's license (e.g. 0 or 0.05) - if you do not have a license you must be 0.

By law, you must use a helmet, either your personal one or an attached Lime helmet. If you find a vehicle without a helmet and don't have your own with you, we recommend using the app to find another vehicle nearby.

We review all end-trip photos to make sure our riders are on their best parking behaviour. If you don't park correctly, you will receive a warning from us. If your parking doesn't improve, then we will have to issue you with a charge.

The charges increase based on how often and severely the parking rules are broken. Charges can be up to $50.

If your parking doesn't improve, we reserve the right to ban your account.

Rules of the Road in Melbourne
Parking in Melbourne
Please park carefully and out of the way of others.
This means:
Park neatly on the kerb side of the footpath

Don't park against the building line

Don't park in car parking spaces

Avoid parking near entrances, exits, crossings and leaning against buildings

Consider whether wheelchair users could get past your parked e-bike or e-scooter
Make sure you ace the 'end-trip photo' 📸
The photo you take at the end of your trip is really important. We review all photos to check how you parked your Lime. If you haven't parked correctly, we may warn or charge you.
Follow the steps on the right to see how it's done ✅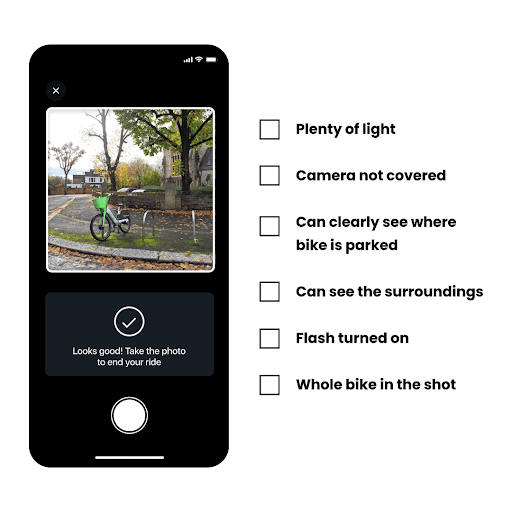 Lime Access in Melbourne
Lime Access is our global equity program that provides discounted rides to eligible residents. It is part of our core mission to provide sustainable transportation options to all. In Melbourne, eligible residents get 50% off rides.

Our Partner
Orange Sky Laundry
Orange Sky works to positively connect the 116,000 Australians experiencing homelessness through free mobile laundry and shower services and genuine conversation. Join our Lime Hero program and each time you ride, you'll round up the cost of your trip to the nearest dollar and donate the difference to Orange Sky. These small donations have a big impact!